About SonoPlus
SonoPlus enhances Sonos audio systems.
The SonoPlus is a preconfigured Raspberry Pi that you simply connect to your network using an Ethernet cable. No further setup or configuration is required.
1: AirPlay for older Sonos systems
SonoPlus adds AirPlay capability to all non-AirPlay Sonos speakers and devices.
Once your SonoPlus is connected it will automatically find all your Sonos players, which will then appear as AirPlay speakers for your Apple devices. One SonoPlus will serve all of your players, and handle multiple AirPlay streams simultaneously.
Learn more at the FAQ.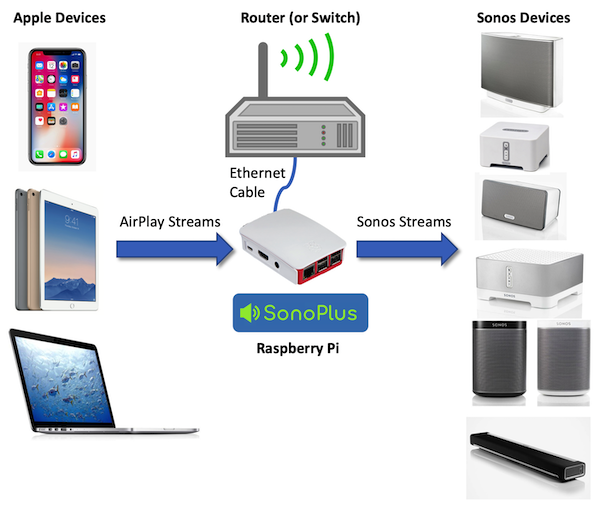 2: Easy, secure hosting of local music libraries
The Instant Music Library feature provides a very simple and secure way of setting up a NAS (network-attached storage) capability, which meets the specific requirements of Sonos music libraries.
3: Automatic software updates
SonoPlus is automatically kept up-to-date and secure, and its functionality will grow over time to include new features to enhance your Sonos experience.
SonoPlus is currently in the product concept stage. Contact us at avantrec.ltd@gmail.com for more information.